VSSL Supplies Compact Adventure Kit Landing Page
SEE HOW VSSL HOLDS 70+ OUTDOOR ESSENTIALS
☑️ Fishing Kit
☑️ Can Opener
☑️ Military Grade Wire Saw
☑️ Compass
☑️ Waterproof Matches
☑️ Water Purification Kit
☑️ Mini First Aid Kit
☑️ And Much More…
---
THE WORLDS MOST VERSATILE FLASHLIGHT
WITH EVERYTHING YOU NEED INSIDE
VSSL Camp Supplies takes the form of a traditional flashlight, but instead of holding batteries in the handle it's packed with over 70 pieces of essential outdoor gear that you'd want on you anytime you head out into the wild. When you grab your VSSL, you know you're prepared for adventure.
---
"

VSSL is an impeccably crafted take on the

be prepared

ethos

"


---



---
THE ULTIMATE CAMP ESSENTIAL KIT
Finally, a way to keep all your critical outdoor gear organized, secure, and in one place for easy access. At 15.6 oz and 9" long x 2" diameter VSSL is not only light, but compact, making it fit almost anywhere you would need it.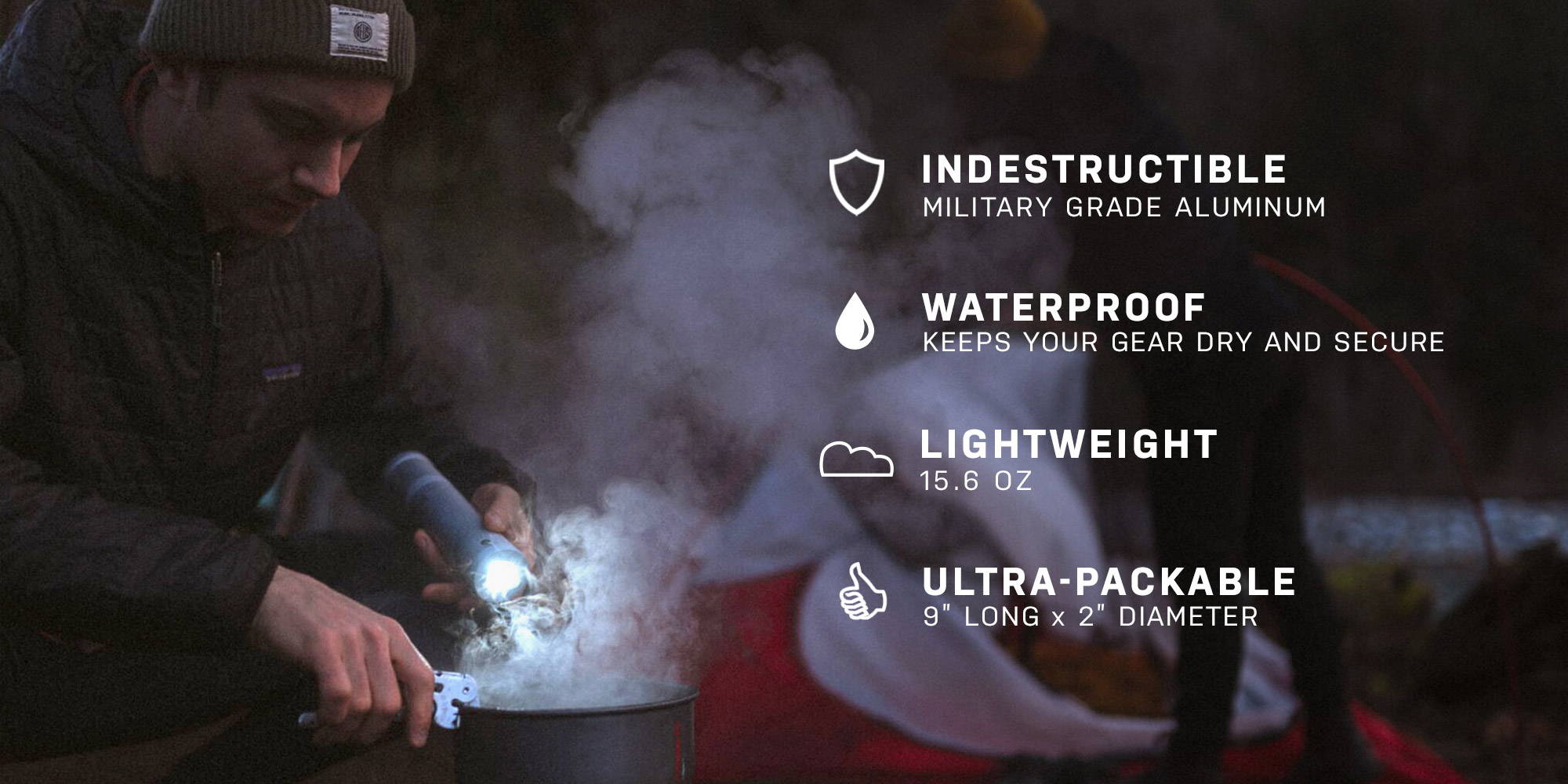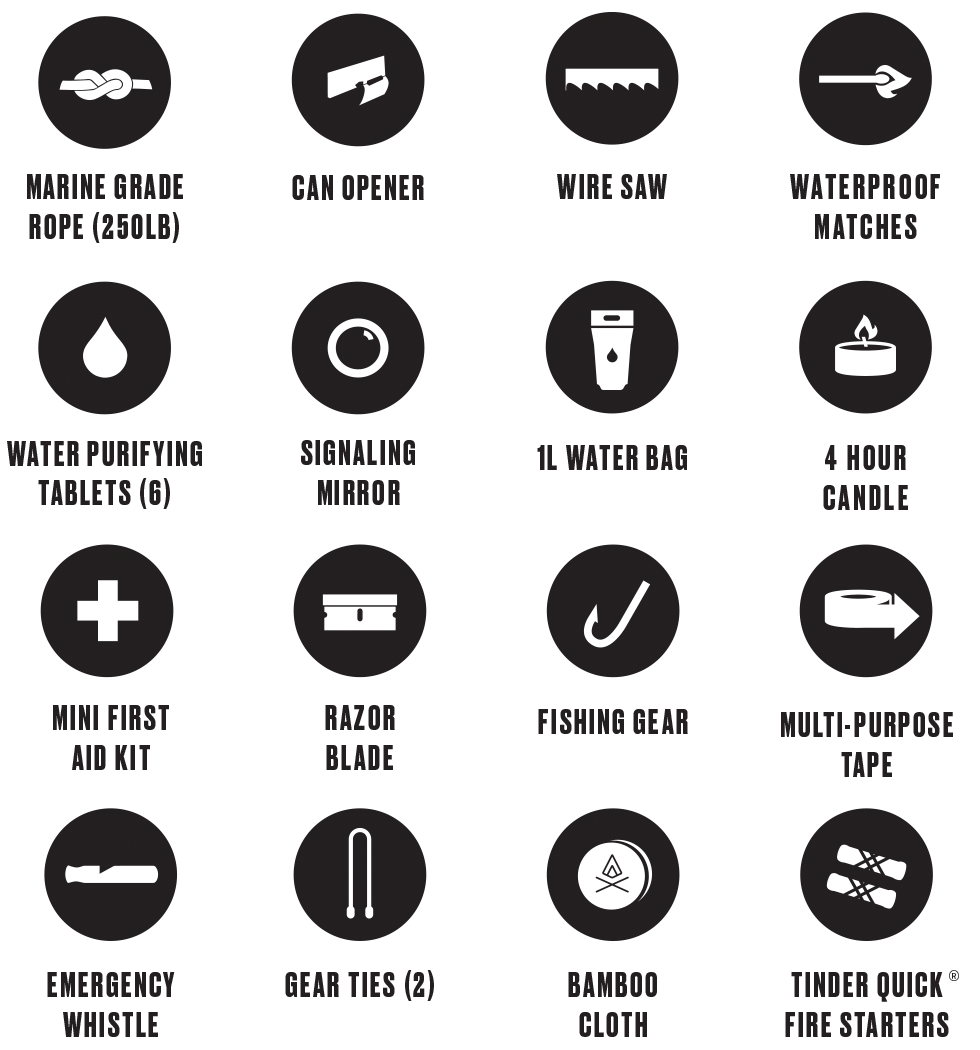 ---
WHAT CAN VSSL BE USED FOR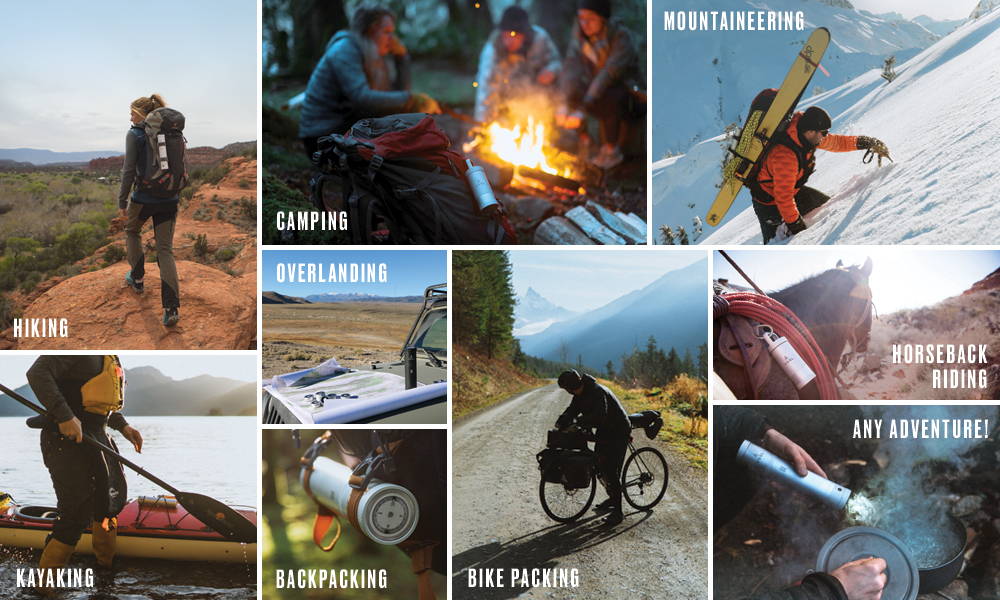 ---
ADVENTURE PREPARATION EVOLVED

VSSL Camp revolutionizes the way you prepare for an outdoor adventure. What is usually a full backpack of supplies is condensed into a single lightweight container you can take anywhere.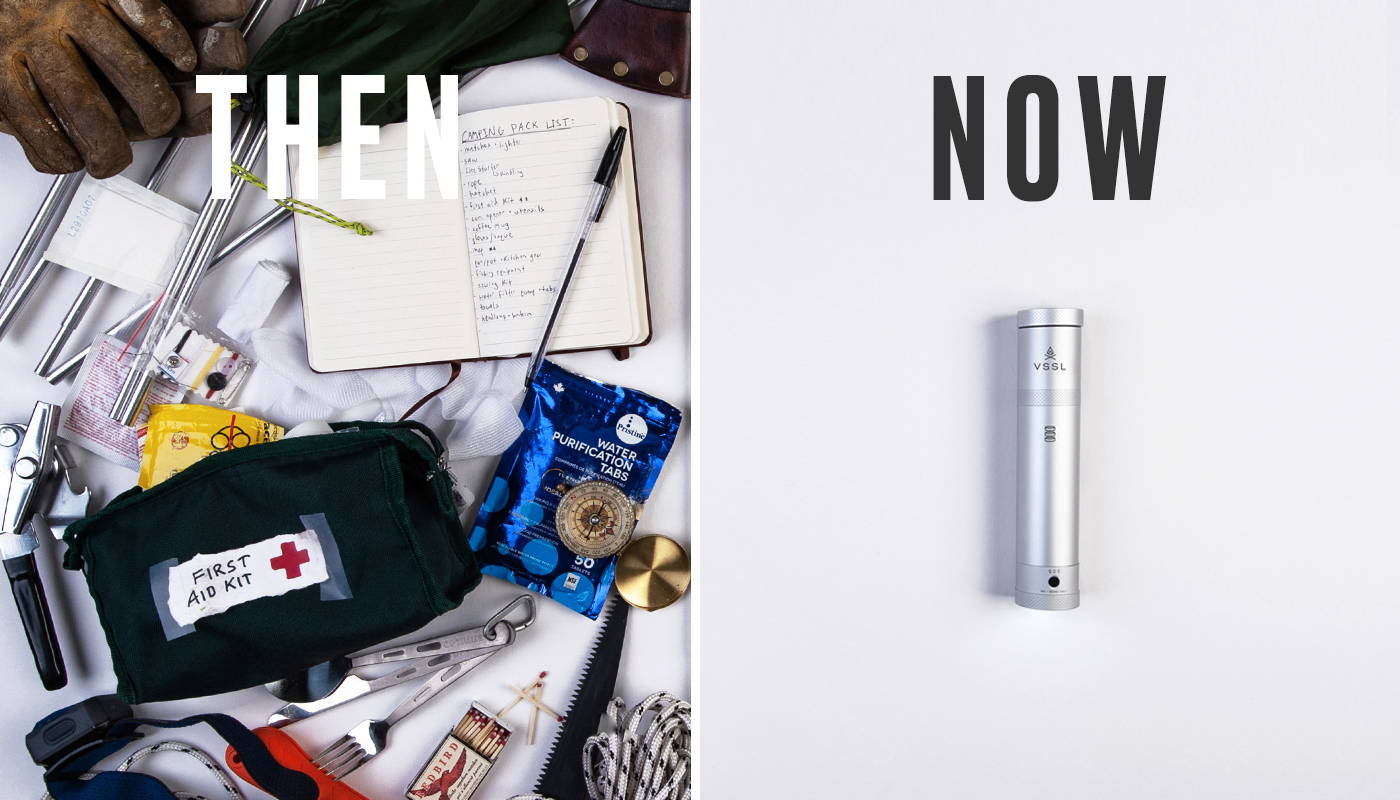 ---
---
4-MODE LED FLASHLIGHT
200 Lumens LED Light (Flood Beam)
4 Lighting Modes: Bright, Dim, Red, SOS
Up to 40 hours of burn time
Waterproof
VSSL COMPASS
Having a trusted navigation aid is a key component to any camping and adventure kit. Phones run out of battery. Compasses don't.
Oil Filled Precision Compass that operates in-between -10C and +50C
MINI FIRST AID KIT
Just the right amount of first aid gear to take care of minor injuries and pesky blisters. The first aid kit contains:
6 bandages, 10 would closure strips, 2 antiseptic wipes, 2 safety pins.
FIRE STARTER KIT
The heart of every good campsite is the campfire. It's easy to get a fire going no matter the weather with this kit.
5 waterproof Tinder Quick fire starters, 10 waterproof matches, 1 striker
FISHING KIT
There's nothing like a fresh trout for dinner! This fishing Kit contains:
1 spoon spinner, 6 j-hooks, 1 bobber

3 worms, 1 split-shot, 35ft of fishing line.
WATER PURIFICATION KIT
Stay hydrated safely no matter where you are on your adventures:
10 Aquatab water purification tabs, and a 1 Liter Whirl-Pak water bag

Purify 7.5 liters of water.
ESSENTIAL GEAR KIT
Don't leave home without this essential kit:
P38 Military GI type can opener & screwdriver, 2 gear ties

Aluminum safety whistle and a Mini sewing kit
WIRE SAW
This is the lightest and toughest wire-saw out there. You'll have no problem sawing off tree limbs to fuel your fire.
Used by the British military, has 60 lbs working strength, and features canvas straps for easy use
ROPE & RAZOR BLADE
Wet gear? no problem. Hand a dry line and shave some kindling with the razor blade to get things drying.
25 ft of marine-grade, 250 lb breaking strength, rope.
VSSL ADVENTURE TAPE
Extra strong, multi-purpose Adventure tape. You will be so glad you have this with you.
Bandage wounds, mark trails, repair gear all with the same tape!
BEESWAX CANDLE
This non-toxic candle is perfect for lighting up an enclosed area and cozying up.
Pure Canadian Beeswax and 4 hours of burn time
BAMBOO CLOTH
Dampen this compact cloth and poof! You've got yourself a durable cloth to clean up any dirty job.
12" x 20" 100% biodegradable bamboo fiber cloth you can use to clean up or strain water
---
VSSL CAMP Supplies is perfectly stocked with over 70 pieces of essential outdoor gear. It's like the multi-tool of camp lights, and it'll change the way you prepare for outdoor adventure.
Don't be mislead by the word "Mini". This ultra-compact, nearly indestructible LED light packs a preparedness punch! VSSL CAMP Mini houses a weather-resistant firestarter kit, rope & razor kit, sewing kit, and a small first aid kit. Grab it, clip it, and go adventure.
Save $50 on the ultimate camp essentials pack for the ultimate adventure couple. This bundle includes one VSSL CAMP Supplies and one CAMP Supplies Mini in your choice of Black or Silver.
---

---
---